There are so many reasons to shop local businesses; they directly support local economies, tend to donate more money to local causes and organizations, and often provide local jobs and more personalized customer service than their big chain competitors. Here in The Shipyards District, we love supporting our neighbourhood entrepreneurs, and they, in turn, love to support and promote one another! In fact, that spirit of generosity and enthusiasm for shared opportunity is exactly the inspiration behind Makers, a unique shop that offers BC artisans a steady brick-and-mortar location in which to sell their products, crafts and art without having to give away a cut of their profits.
We spoke with Veronica Kos to get the lowdown on how they've built a thriving local business out of celebrating local makers.
It's All About Timing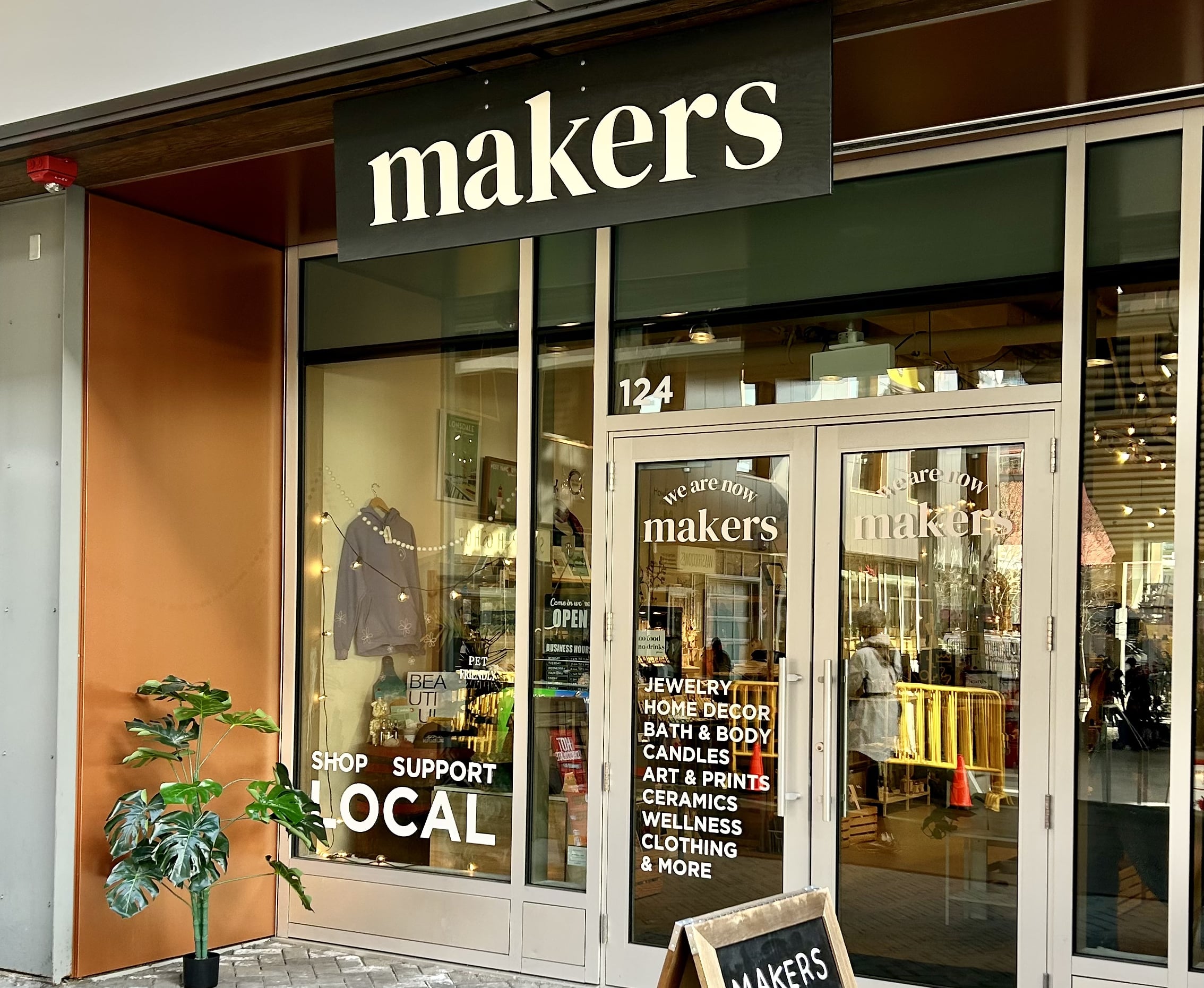 Opening a business in the middle of a worldwide pandemic may not sound like a sure-fire bet, but Veronica, who had been working in marketing for a travel company at the time of the Covid lockdowns, suddenly found herself with some extra time on her hands. When her partner and Makers owner, Adam Sharanewych approached her to help him get the idea started, they both knew it would be risky. In the beginning, "we all did a little of everything," she says; "there was lots of shelf-building and manual labour, but it was exciting too." They decided to start with a holiday pop-up in Gastown for November and December of 2020. Renting a space was less expensive due to the unfortunate timing, and despite being newer to the local artisan scene, they hoped that a shorter, two-month time commitment might entice artists to give them a shot anyway. "We messaged absolutely everyone we could find who was a maker and based locally," says Veronica, and soon there was enough interest to pull off a successful holiday pop-up. Not long after that, they found themselves signing a year lease in that same Gastown location, and as word-of-mouth spread among the artisan community, makers from all over the province were reaching out for more information about how to get involved.
Building Up And Branching Out
Makers (originally branded as The Nooks) quickly discovered two things: people in Vancouver love to shop local in support of their neighbourhood artisans, and there's far too much amazing talent based locally to house them all in one single location! In just two years, Makers outgrew its Gastown location and expanded the business to include shops in both Kitsilano and The Shipyards in North Vancouver. They've added even more since then, with a roster of 100% Canadian artists (90% of whom are based in British Columbia), and nearly everything is handcrafted. They employ a membership model where the artist is able to rent a shelf, or 2-3 foot space in-store to sell their pieces. In contrast to artisan fairs and markets, however, they don't need to be physically present during business hours unless they'd like to, and a 13% service fee is charged to the customer at checkout which covers all tech costs of the operation. As a result, the artists themselves retain a full 100% of profits from any work they sell, unlike the traditional wholesale process which usually takes a sizable cut of their earnings. As a business model, the Makers approach creates an empowering opportunity for local craftspeople to essentially run their own creative businesses, and even support their families with money they make from their art.
Where Art Meets Commerce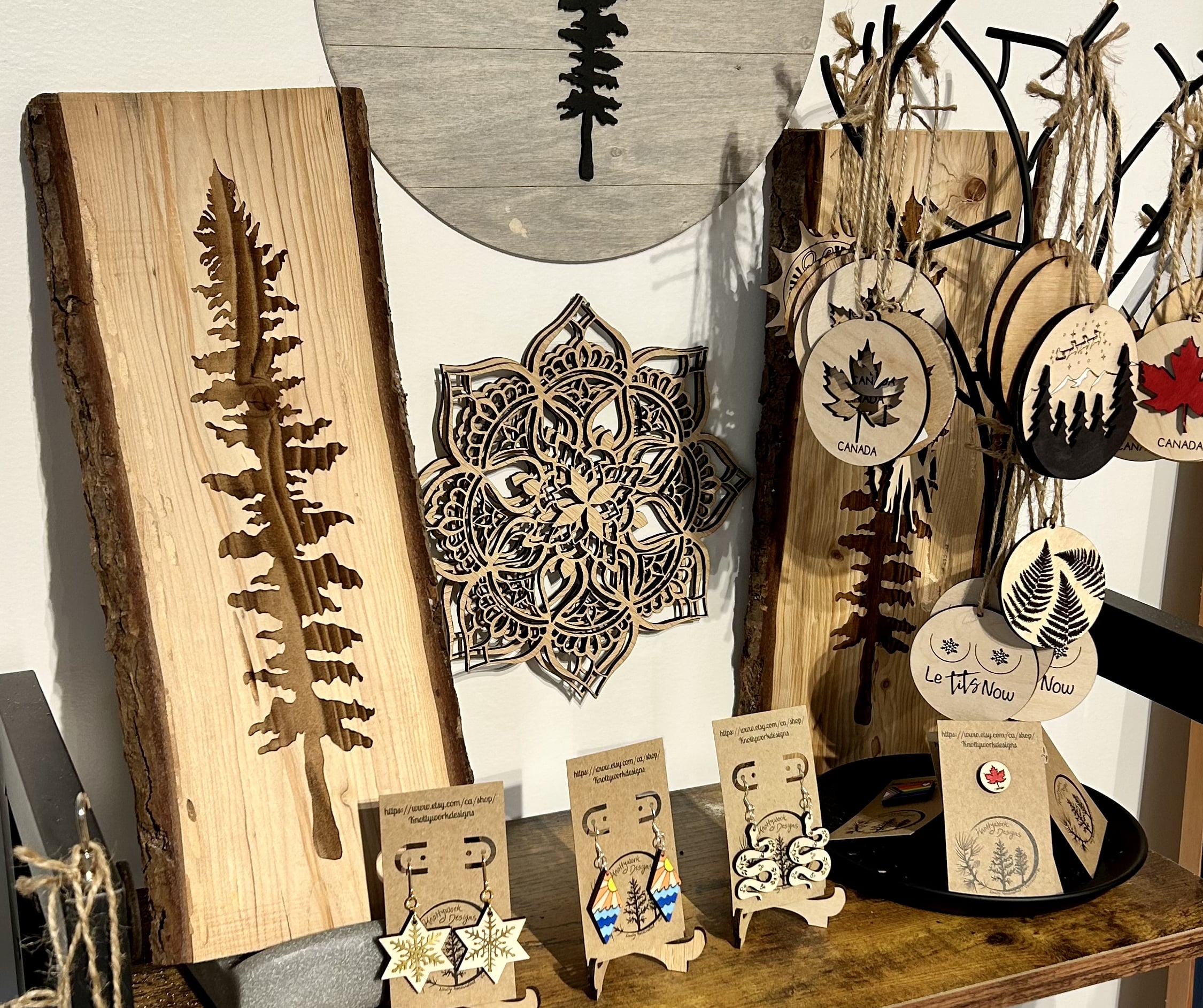 Adam, who was a software developer by trade, grew up in an entrepreneurial family. He has a personal connection and appreciation for the artisans whose work he helps sell, however, because he once started a line of his own men's hair care products! Veronica jokes that "it all started with sea salt hair spray," but adds that today, he often gets approached by local artisans who thank him for helping them build a more financially stable future for their families. Their team has grown as well, with Veronica touting their "incredible team of store managers," without whom they would never be able to maintain all of their current store locations. Each Makers shop has its own unique vibe as well: "our Victoria store is probably 80% island artisans," and other stores feature artists who also live right in that neighbourhood! The application process includes an interview with the store manager who considers the quality and story behind the work, in addition to any potential competition within their current inventory. "We take on anything under the scope of candles, jewellery, clothing, and home decor," Veronica says, and can have "roughly 60-70 makers in-store at any given time." That being said, the current waitlist for artisans to rent one of those coveted spaces in a Makers shop is long. Adam and Veronica strive to meet the high demand by continuing to add locations all around BC, and even hold weekend pop-ups to incorporate artists who may not already be featured in-store yet.
It's clear that what began as a humble offering of local and handmade goods three years ago has swiftly evolved into a movement of celebration for creativity and entrepreneurship. With an already vibrant culture of art and local talent already, we think The Shipyards District is an ideal neighbourhood to make good use of a Makers shop. According to Veronica, the feeling is mutual too: "(Caffe) Artigiano's is totally a standard, the staff is super nice. Larry's are absolute legends," and the Shipyards Brewery District– we may collaborate with them for a sip and shop prize too!" In a city with talent and inspiration to spare, Makers doesn't just believe in supporting local artisans and the work they create– they've made it their business.
Keep up with all the Makers news on their newly revamped Instagram, where you can also find out about their weekly pop-ups too. To learn more about the other amazing businesses that make up our local scene, be sure to check out The Shipyards District directory too!