From a very young age all he wanted to do was perform and, while it's unlikely that you'll find Reza doing an interpretive dance at the Artisan Wine Shop, you will certainly enjoy his incredibly warm and generous reception.
Perhaps it's his ability to bring light and humour to a group, or his 17 years in the world of luxury tea, or his Persian background, but no matter the reason, Reza understands that a great hospitality and retail experience goes hand in hand with being a kind and knowledgeable host. 
Growing up Reza called several countries home until his parents decided to move to Canada in the hopes of providing the best possible life for their children. Despite his deep desire to entertain and perform, he chose to follow a more traditional path and attended The University of British Columbia graduating with a Bachelor of Commerce Marketing & Management Information Systems degree. After meeting his wife, Casey James, he moved into an entrepreneurial venture with his wife's family in 2004 by joining The Urban Tea Merchant for the next 12 years. Reza worked hard, and with the support of his mentor, Tom James, eventually earned the position of Director of Business Development dealing with executives in the most prestigious hospitality properties across North America. 
For the next seven years, he would move on to the role of Director of Corporate Sales & Business Development at Vansing Distribution Group Ltd. and TWG Tea Canada. During this time, he also became a Certified TAC Tea Sommelier and a Registered Tea Sommelier Educator through the Tea Association of Canada. 
When the tea business was sold in 2018, he started to transition into two new career ventures and a chance at a second act. The first saw him transfer his skill set from tea to wine. Like wine, he needed to learn about the different terroirs of countries that grow wine, how to do blind tastings, pair wine with food, and how to sip and savour.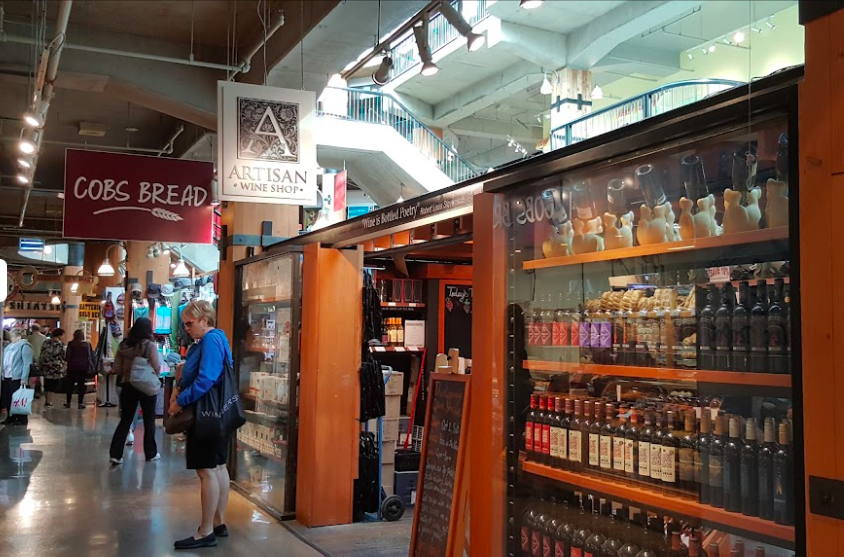 In 2019, Reza became the area manager for the Marc Anthony Group and the two Artisan Wine Shops (the other one is in Victoria) where he strives to create an artisanal wine experience much like he did working with luxury tea brands. Once inside Artisan Wine Shop, you'll find a passionate team focused on sharing the stories of organically farmed, Okanagan Valley-based wineries. The shop is a curation of BC-only wines, limited releases, and new discoveries on constant rotation. He chooses to focus on six to seven key BC wineries and works to bring in more hard-to-get wines from the Okanagan to make fine BC wines more accessible to all. 
At the same time, Reza also decided he wanted to revisit his original passion to perform. 
Born in Iran, as a toddler Reza moved to Belgium and then to several other countries. Living in Europe, he was exposed to many different cultures, dialects, and accents (ironically, he didn't learn Farsi until he moved to Canada). He was fascinated with cartoon voices and stories and started doing voices when he was young. Growing up he would create sketch comedy with his best friend when they spent summers together and, as a teen, became enthralled with Disneyland and cartoons. 
Reza is now channeling his childhood talents as a voice over artist in his spare time. He couldn't be happier! His abilities have landed him some incredible international partnerships with companies such as Emirates Airlines, VISA, Hasbro, and Maersk to name a few. www.RezaNasooti.com
Today, he's got two jobs, or technically three, as he's a very dedicated father and considers it the most important of his roles.
Five things you don't know about Reza:
He has lived in five countries on three continents.

He's a huge Michael Jackson fan.

He speaks conversational Dutch, French, and Farsi.

He can copy a lot of different accents.

The most expensive tea he has ever tasted was $3,000/100 grams.
<
How would friends describe you?
An introvert-extrovert who likes to have fun and doesn't take himself too seriously.
What was your first job?
When I lived in Belgium, my best friend and I would take buckets of soapy water and go door to door offering to wash cars to earn money to buy candy. Then, during the cold winters in Germany, my cousin and I would sell unique rocks using the same method.
How do you spend your days off?
With my family. My son Caiden is seven and daughter Sadie is four. We love to do family-focused activities, we travel (I'm revisiting the places I went as a child with them), and I read to them. My wife and I also typically like to entertain, and I make sure we have our friend's favorite food and drink on hand.
What makes you laugh
Simple occurrences in day-to-day life, my kids, memes…lots of things.
What tips do you have for entrepreneurs?
If you have a vision don't give up. It helps to take a diverse approach and consider that there are different ways to get to the same result.
What advice would you give your younger self
As an immigrant I was introverted and slightly shy and I think that stopped me from doing things. I would tell myself to stop and ask, why not?
You've travelled a lot so what cuisines do you like?
I appreciate all food that's done well. My mother's Persian cooking of course, and I love Chinese and Japanese cuisine for the great flavours.
Wouldn't you love to hear Reza tell you all about the shop's collection of exclusive BC wines and what wine to pair with what food? Then head on over to the Artisan Wine Shop inside Lonsdale Quay Market at 123 Carrie Cates Court, 604-264-4008. www.artisanwineshop.ca