With Halloween just around the corner, it's the perfect time to spend time with family and celebrate this spooky holiday. Whether you're looking to go trick-or-treating, admire the creative costumes, or simply soak in the eerie atmosphere, you'll find plenty to do in The Shipyards District this Halloween.
Trick or Treat at Local Businesses
If you're looking for a sweet candy haul this Halloween, don't miss trick-or-treating in The Shipyards District. This year, tons of local businesses will be handing out treats between 3:30 and 5:30pm on Halloween—just look for the black and orange signs and balloons for participating businesses. Grab the kids, put on their best costumes, and make your way around The Shipyards District for a fun afternoon of trick-or-treating. 
Soak in the Halloween Atmosphere
Halloween in The Shipyards District offers more than just trick-or-treating. If you're exploring the area on this hair-raising holiday, keep your eyes peeled for the roving stilt walkers, spine-tingling zombie flash dance, ghoulish horns, and more. The streets of The Shipyards District will be alive with Halloween spirit this year—so don't miss it!
Carve Jack-O'-Lanterns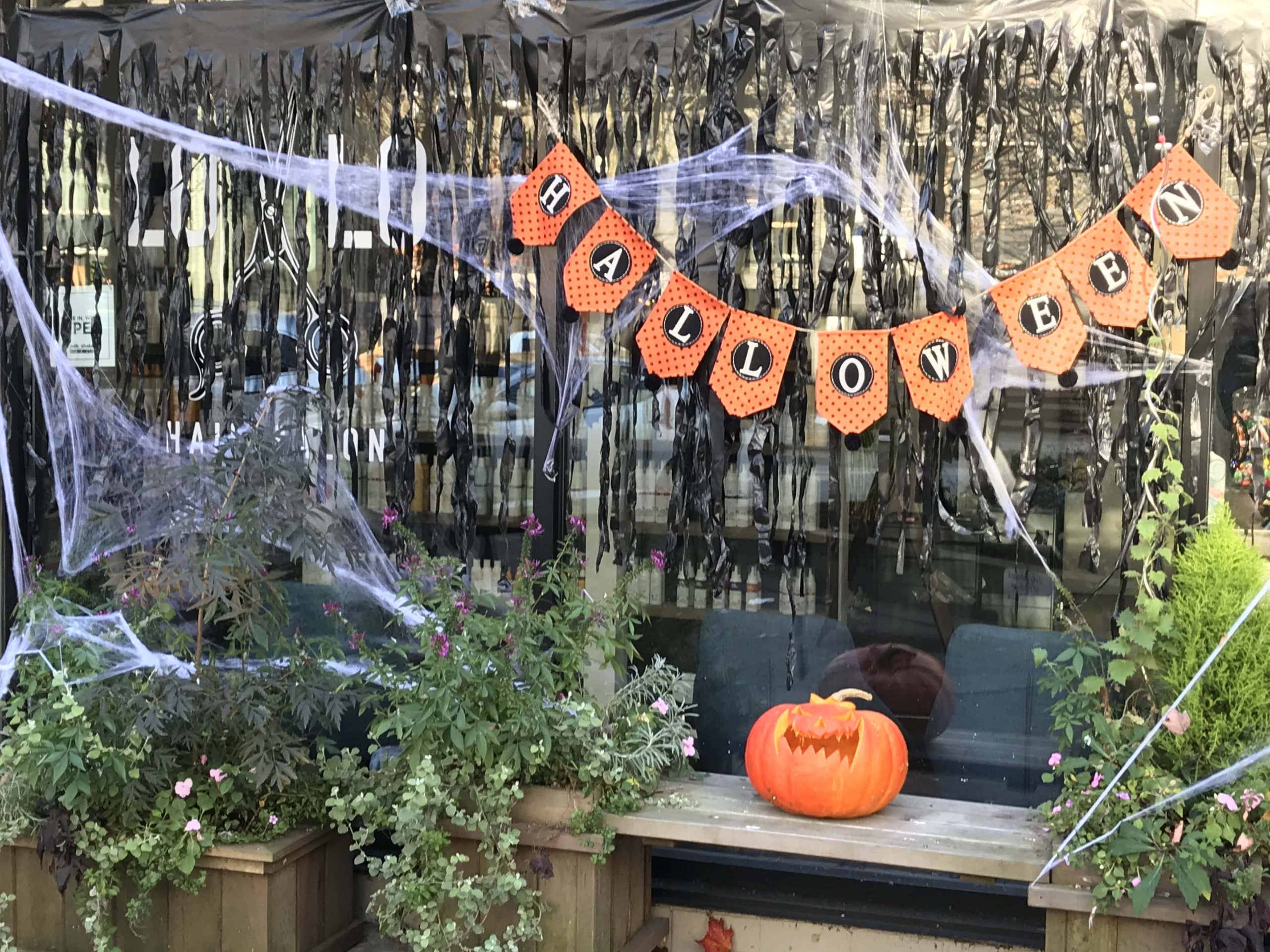 Jack-o'-lanterns are an iconic symbol of Halloween, so make sure to pick up some pumpkins to carve this Halloween. Grab your pumpkins ahead of time from Foxy Farm Market or Larry's Market in The Shipyards District for an exciting day of carving with the kids.
Celebrate Pumpkin Spice Season
The aroma of cinnamon, nutmeg, ginger, and cloves signifies that pumpkin spice season is here. And what better way to celebrate Halloween than with some pumpkin spice goodies? Stop by Shipyards Coffee or Cafe Artigiano for soothing pumpkin spice lattes for the adults. And for the kids, head to Welcome Parlour for a scoop of their P.S.L. (pumpkin spice latte) ice cream.
Go on a Catapult Mission at Zen Maker Lab
For a fun and educational afternoon with the family on Halloween, head to Zen Maker Lab in The Shipyards District. This STEAM (science, technology, engineering, art, and mathematics) learning centre is hosting a free event, Catapult Mission, on Oct. 31 from 12:00 to 4:00pm. Enjoy the afternoon building and launching catapults at this family-friendly event full of fun and prizes.
Stock Up on Candy and Confections
If you're looking for gourmet candy and confections this Halloween, don't miss a trip to Olde World Confections in Lonsdale Quay Market. This long-standing confectionary offers everything from gooey caramel apples and saltwater taffy to handmade chocolates and vegan sweets. Make a trip to the market to grab your favourites, or call ahead to place a large order before Halloween. 
For some family-friendly fun this Halloween, The Shipyards District is the place to be. Discover all The Shipyards District's Trick or Treat locations on our map.