There's only one thing we love more than this amazing neighbourhood, and that's discovering new ways to experience and enjoy North Vancouver's The Shipyards District for FREE! Yes, The Shipyards District is certainly home to some top-notch restaurants, shops, and breweries where you can happily spend your hard-earned coin, but it also happens to be one of the best neighbourhoods in Vancouver for free things to do including free events, art, and outdoor activities. No matter what time of year, in the rain or shine, we've got more than enough to keep you wandering, marvelling, and memory-making for free!
1.
Splash (Or Skate!) In Shipyards Commons 
In the summer months, Shipyards Commons comes alive to refresh you with water you can splash around in to your heart's content. A great way for the whole family to cool off, and burn off a little afternoon energy, the Splash Park is a real lifesaver on those extra-warm days. In the wintertime, you'll find a different sort of cooling fun when the whole place turns icy and transforms itself into an idyllic outdoor ice skating rink just in time for some holiday magic.
2.
Discover Public Art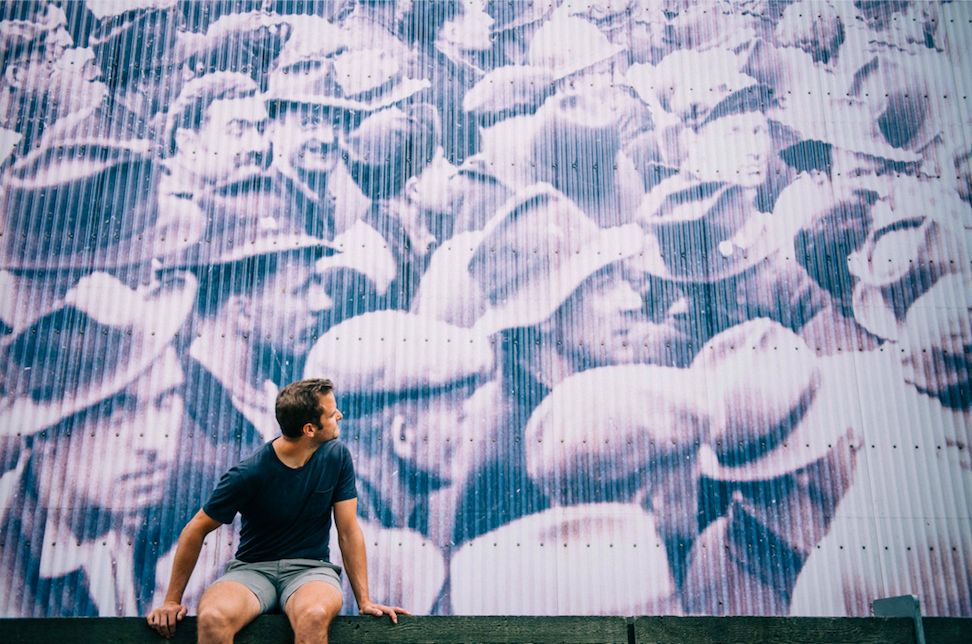 There is a plethora of public art, sculpture, and murals just waiting for you to come seek them out around in this neighbourhood. If you're savvy, you can visit them all in a single day of exploration on foot too. Download the map, and make your own self-guided tour, or take a look at our guide to making it a whole day of art in The Shipyards District. If vibrant local art and culture are a big part of your vibe, the North Shore Art Crawl is also happening from October 13-15, and shouldn't be missed. Check out North Van Arts for more info on this year's event, and let the inspiration begin!
3.
Take A Theatrical Walking Tour
Feel like taking a walk into the Shipyards of the past? MONOVA offers free walking tours guided by one of their theatrical Shipyard Pals who will give you a more personal look at the life and times of this area's WWII era. Through the summer months, you can join a free tour without a reservation. For more info, visit MONOVA's event page, and happy history-hopping!
4.
Browse The Lonsdale Quay Market
There's always something cooking at the Lonsdale Quay Market, and just a casual stroll through its two floors of shops and vendor stalls is a great way to pass some time (or pick up a quick snack). Be sure to check out their lineup of upcoming events as well, because you can indulge in many of them free of charge, and all year round.
5.
People Watch From The Megabench
Located at the foot of Lonsdale Public Plaza is the 48-metre-long Megabench; if you've never seen it, much less sat down on it, you're really missing out on a truly unique work of functional art. Made from 450 pieces of Western Red Cedar that were locally sourced in BC, this is the perfect place to relax, and take in some views of the skyline, the North Shore Spirit Trail, or just your fellow neighbours.
6.
Walk Or Bike The North Shore Spirit Trail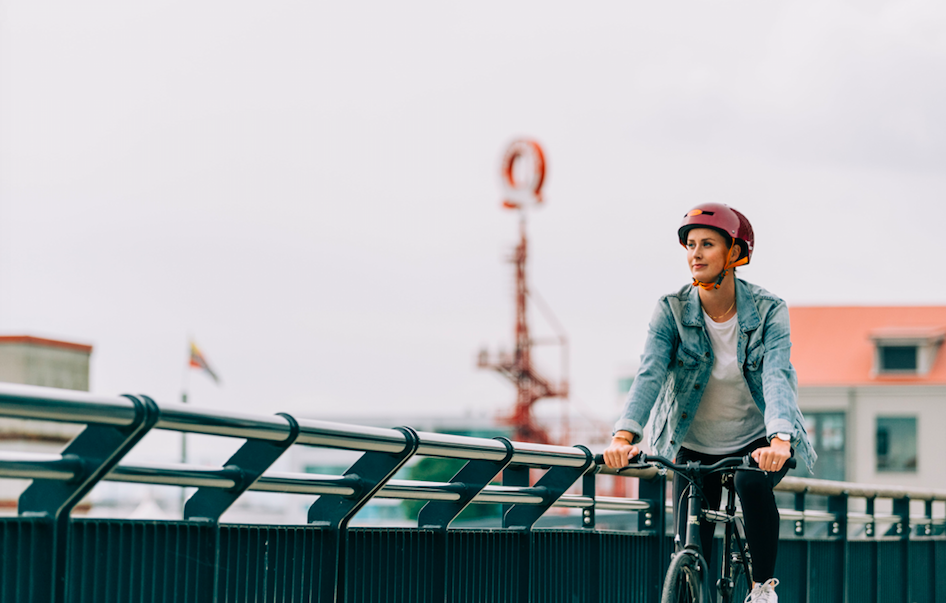 This 35-kilometre-long greenway extends all along the waterfront from Horseshoe Bay to Deep Cove, and you get the pleasure of walking, running, or peddling it all for free! Lace-up those runners, or load up your bike for a Spirit Trail adventure, and you may even see some wildlife along the way too. If you don't have one of your own, and feel like spending just a few bucks to rent a bike or e-bike for the afternoon, head over to Reckless Shipyards; they'll take good care of you.
7.
Kick It At Waterfront Park
Boasting beautiful views of both the Burrard Inlet and the Vancouver city skyline, Waterfront Park is a great place to while away the hours. It has a dock, a playground for the kiddos, an off-leash area for the pups, and a Japanese garden for everyone to feel peaceful in. An ideal spot to enjoy your summer picnics, this park is also known for being one of the first in Vancouver to allow alcohol, so feel free to hit up one of our fantastic local breweries to grab a few cans for your hang! 
8.
Cityscape Community Art Space
This inclusive, contemporary art space has so much going on, and admission is free for all. On any given week, Cityscape offers group-based exhibits that celebrate local and diverse culture and experiences, in addition to interactive exploration. Take a look through their current exhibitions, and plan your visit.
9.
Window Shop In Style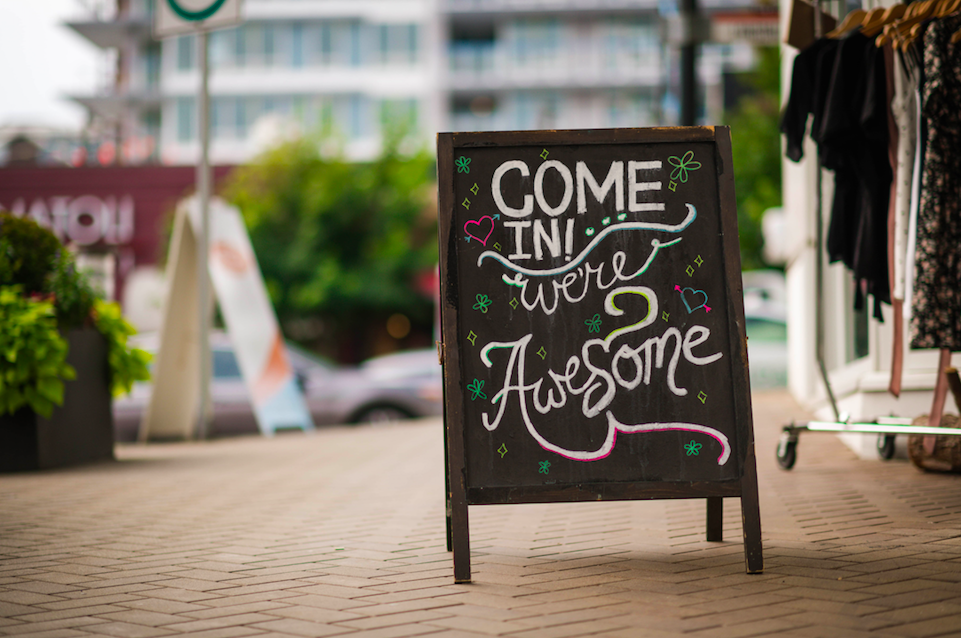 While shopping itself isn't exactly "free," there's no charge to simply look through a few racks and shelves, is there? The Shipyards District has several great clothing boutiques to choose from, and you never know where your next style inspiration might spring from! For all of our fellow bargain hunters out there, may we also suggest taking a spin through some of the local thrift and vintage shops for an extra sweet steal?
10.
Crane Your Neck For The Crane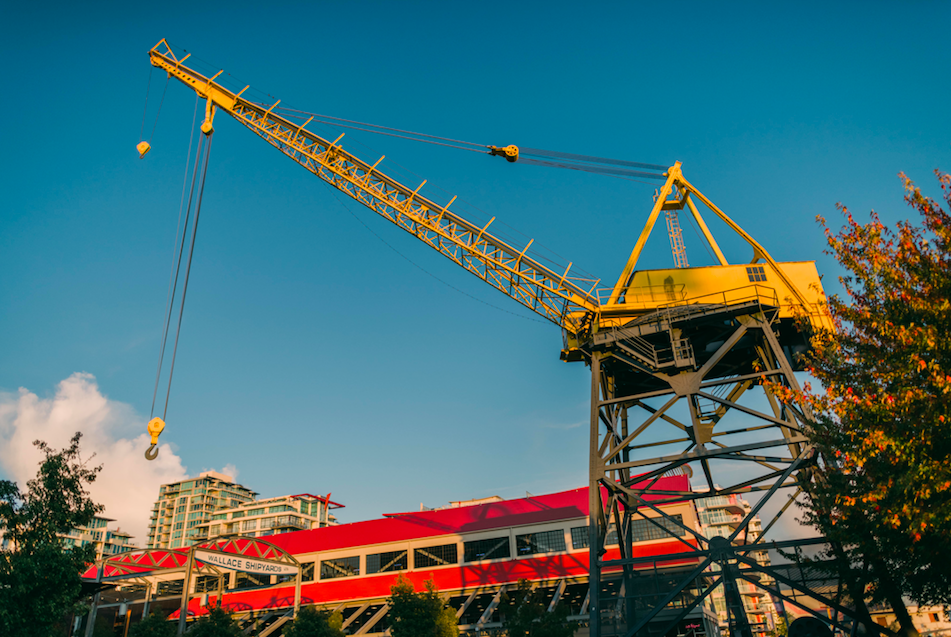 Not to brag or anything, but we do have the largest gantry crane in all of North America (just sayin'). This three-tonne crane is known in the Squamish language as Hiyi Skwayel, or "Big Blue," and it stands a whopping 84 metres tall, with a 76-metre span. Able to lift up to 300 tonnes with ease, it's surely an impressive sight to see any time of year. 
11.
See The Ships From Shipbuilder's Pier
Its official name is Burrard Dry Dock Pier, and this wide-open beauty (sometimes referred to as Shipbuilder's Pier), is a lovely destination to take a stroll close to the water. In a district so rich in maritime history, spending time walking the pier planks is a special way to take in those stunning ocean and city views, while also checking out the ships of today as they carry on the legacy. 
12.
Check Out A Market (Or A Few!)
To say this neighbourhood loves a good market would be an understatement; it seems we're always finding new opportunities to get the community out and mingling about food, art, and music! In the summertime, you can expect the Shipyards Friday Night Market to deliver live music, beer gardens, and food trucks from 3-10 p.m. every Friday May through September. Through spring to fall, the Lonsdale Quay also hosts a Saturday morning Farmers Market (do I smell free tasters?). Made In The 604 and the Thursday Night Artisan Market both throw seasonal pop-up markets throughout the year to showcase the arts and crafts of local makers.
13.
Visit The Polygon 
Always by donation only, a visit to the contemporary heavy hitter that is The Polygon Gallery may be just the way to satisfy that artsy itch. Its exhibits are host to renowned paintings, photography, and mixed media work from recognized artists around the world. In the summer months, they also offer free outdoor movies on their Carrie Cates Deck, so be sure to check out the lineup for the Deckchair Cinema too. 
With plenty of ways to spend your time in The Shipyards District on any budget, you might even start out with a few of our suggestions, then feel free to let the day (and your curiosity) lead you the rest of the way. If the weather's in your favour, we also highly recommend breaking up the afternoon with a patio happy hour bite or sip nearby too! After all, who doesn't love a good deal in a great neighbourhood?
Search our directory to find out more about all we have to offer!