There are many reasons to put a little honey into your life, but did you know that all that golden goodness may also be beneficial for your health? Main Street Honey Shoppe opened its doors to The Shipyards District in 2019, but their original store in Mount Pleasant has been treating Vancouver's various neighbourhoods for longer than that, and in more ways than one. We spoke with founder and head bee man himself, Tony Lovse, to learn a little more about how this special shop is making delicious, healthful, and environmentally-positive change in our District every day.
Here's To Your Health
From the first moment you walk into Main Street Honey Shoppe, you're struck by the soothing smell of beeswax. This fully sensory experience is something that Tony believes is part of what makes his place so beloved by customers, both old and new alike, and it extends all the way to complimentary honey tastings in-store as well. "That aroma, it makes you feel good," he says, but the perks of honey go even deeper than those sweet-smelling feel-goods. If you are looking to fuel your body with healthier food, there are several health benefits to incorporating honey into your diet, from a natural cough suppressant and digestive relief to a topical salve for minor burns and cuts. There are even studies that have shown honey may act as an antidepressant, and help with anxiety and memory loss. Customers often visit Tony's shop for the more seasonal products as well; bee pollen is often used as a kind of multivitamin that can also minimize allergy symptoms, and propolis, which bees use to line their hives and protect them from fungi and microbes, can be used as a natural antifungal and anti-viral that's also incredibly rich in antioxidants. In other words, next time you're in the market for an antihistamine for springtime allergies, or an immunity boost for wintertime cold and flu season, the knowledgeable staff at Main Street Honey Shoppe has got you covered.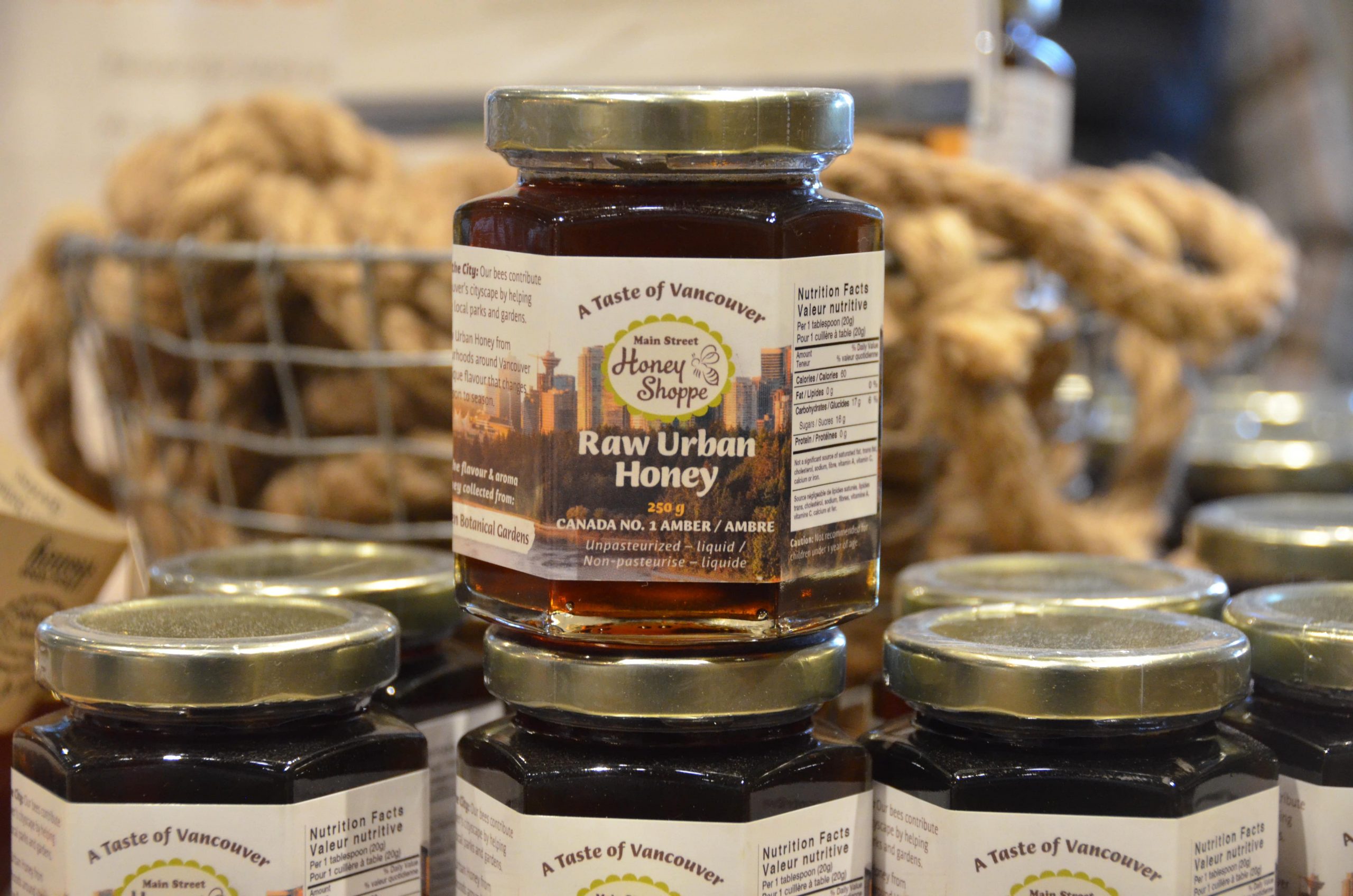 The Planet + Bees = ❤️
We love how so many of our local neighbourhood businesses are committed to their environmental efforts as well, and Tony and his team certainly put a unique spin on doing their part for our planet. When they first opened shop in Vancouver, after producing their honey primarily in the Fraser Valley, they found that not only were customers eager to try honey made even closer to home, but some of the local parks and neighbourhoods were also happy to benefit from having some friendly new pollinators helping their plants and flowers thrive. Main Street Honey Shoppe set up colonies in VanDusen Botanical Garden and Queen Elizabeth Park, among others, and they even provide observation hives to help educate kids and families about the importance of bees at VanDusen's annual "Pollinator Days" event. This "Bees In The City" project means greener neighbourhoods for Vancouverites, additional support for honey bee populations, and year-round jars of honey for customers that are so local you might even taste your neighbourhood in each spoonful!
"Mono-agriculture is a problem for bees," Tony says, "because it only gives them one source of food." Nevertheless, these master pollinators who are responsible for generously serving at least one-third of the world's food production, are suffering from dwindling populations due to things like pesticides, and aggressive land development. On the one hand, Main Street Honey Shoppe provides high-quality products that promote the growth of bee populations, but they also serve as a warm and inclusive educational resource for people to learn more about the wonders of bees, honey, and the environmental potential of these tiny, buzzing creatures.
Variety Is The Spice Of Life
When you visit their shop in The Shipyards District, you'll find a wide variety of honeys that come from all over Vancouver, all over Canada, and all over the world! Can't make it to Australia for a vacation this year? Try an Australian honey, and taste what the bees that live there have to say about it! Main Street Honey Shoppe also sells select coffees, teas, beeswax candles (remember that sweet aroma?), and some local-made and beekeeper-made face and body products as well. Try some blueberry blossom honey, harvested in the blueberry fields of Fraser Valley, where farmers welcome these bees with open arms just as the blossoms are about 10% in bloom. You might even taste a notable difference between two honeys that come from the same area, simply because one was harvested in May, and the other in July; "It all depends on what's blooming, and when," says Tony. This is one business that really must be experienced in person too; from honey on tap you can fill your own jars with, to homemade honey almond cakes, honey buckwheat cookies, honey apple cider, and honey lemonade when the weather gets warm. "The Shipyards is a special place," Tony adds, "and we're excited to see the area continue to grow." We couldn't agree more, because this small, family-owned business is a true labour of love, a wealth of pleasant surprises, and a delicious addition to the neighbourhood. 
Need one more excuse to pop in, and taste the results of all this good work? Main Street Honey Shoppe will be celebrating its 10th anniversary this May, so stop by to say hello in person, and be sure to check out their website to discover even more reasons to indulge your honey tooth.
If you'd also like to discover any of the other amazing businesses in The Shipyards District, visit our directory.