When you walk into Joy Hair Studio, you're stepping into so much more than a friendly neighbourhood hair salon. With a wonderfully talented team of hair care professionals and an extensive list of services that are sure to treat your tresses right, this local business also happens to be one of our favourites for their generous charity and community outreach work. Tara Main and Savannah Falk run their salon on the principle of giving back to the community, and a portion of proceeds from all services are donated directly to the many charitable organizations and initiatives they support. We got to chat with Tara about this big-hearted salon, and about all the ways it's making The Shipyards District even more beautiful. 
All For One, And One For All
One of the most important things about Joy Hair Studio is that it seeks to "create a space where others can flourish," says Tara. If they're interested, the stylists have the option to run their own business within the salon, rather than simply being a 9-to-5 employee. "You'd never know it because we're such a solid team," she says, but if anyone is inclined to build their own brand as well, the salon is proud to support that, and to help them with the tools they need to grow. That generosity of spirit and passion for lifting one another up also extends to the way Joy Hair Studio is run; a Beauty Safe salon that is sustainably-minded in everyday practices, they also use an inclusive, gender-neutral pricing model to show that all are welcome to feel beautiful here.


The Long Road Of Experience
Tara herself comes from an extensive and varied background within the beauty industry. Born and raised in North Vancouver, she was an apprentice hair stylist by the age of 18 before becoming a platform artist for a colour company where she met Savannah. Afterwards, she would go on to gain valuable business, management and marketing skills from years of experience in several other areas of the industry; she's worked as the director of a salon and spa, the director of a hairdressing school, and even started her own salon consulting business through which she first discovered the salon that would eventually become her own. The original Joy Hair Studio had been suffering under poor management, irresponsible bookkeeping, and a lack of mentorship for the stylists; when Tara was brought in to help, it seemed like a lost cause. Nevertheless, she felt invested to try: "I was a single mom, pregnant with my second, and here I was trying to get this salon up and running!" Despite the odds, Tara managed to bring the studio from bankruptcy to breaking even in the first 30 days; Savannah joined later as well, and today, they're still going strong eight years later. "I'm so proud of our partnership," Tara says, "Savannah and I are on the same page; if I'm falling behind on something, she's picked it up– we're really fortunate."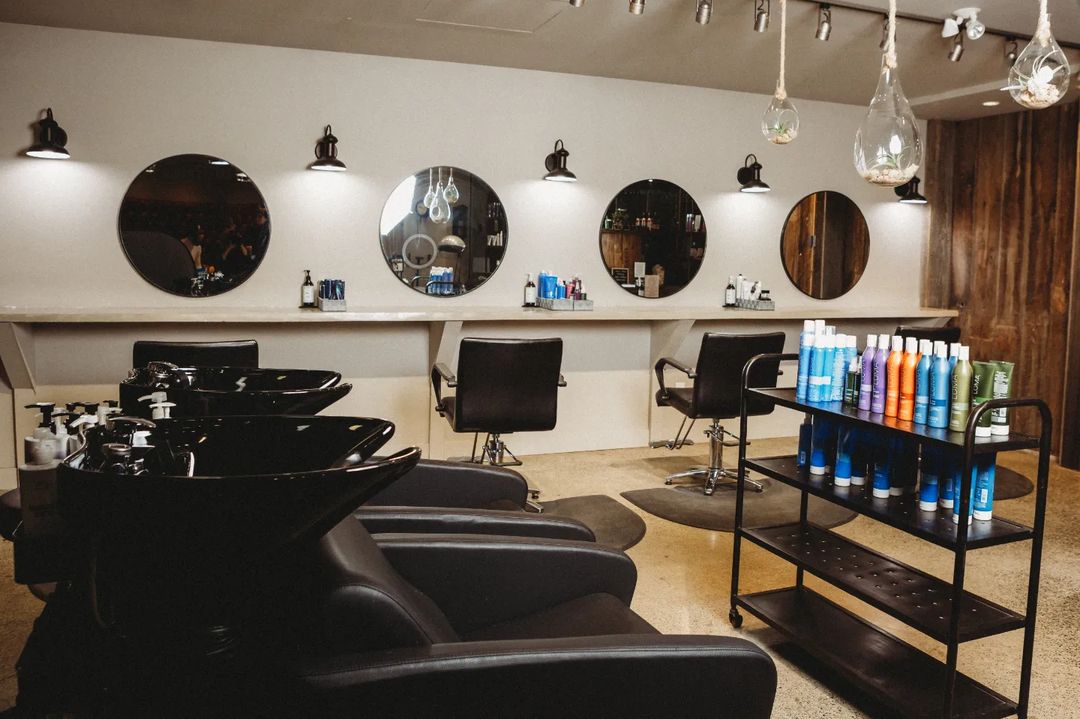 Sharing The Love, And Spreading Community
It's no secret that Joy Hair Studio is devoted to the charitable organizations and outreach programs it supports. They've put together a hot dog BBQ at the Quay to raise money for St. Andrews Church's lunch program and paid to have a table at an elementary school's Spring Fair where they donated feathering and crazy hairstyles for the kids. They also organized a big fashion show at The Pipe Shop with a live band and a DJ to raise money for Camp Kerry, a family bereavement retreatment program. "It was important to me," she says; "I lost my dad when I was 14, and there was no support available." In addition to the time and profits they donate, Joy Hair Studio also loves to support small, Canadian, and women-owned businesses by selling local-made art, jewellery and accessories in-store. They particularly focus on businesses and brands that are socially and environmentally responsible, even offering some all-natural makeup products as well. Especially in a post-pandemic world, Tara believes that community is one of the top priorities for their business: "Our clients have been so supportive of us…we love the combined marketing efforts and support of The Quay, and The Shipyards District as a whole is the place to be. We love being in the hub of the action!" 
If you haven't visited Joy Hair Studio before now, the holidays may be the perfect time to start. From haircare products, styling tools and gift cards, to local-made jewellery and toques, they could probably cover all of your Christmas stocking stuffers in a single visit! 
Be sure to get your holiday appointments booked as early as possible too, since they tend to fill up, and take $10 off your first service when you enter your email here. Don't miss out on the chance to meet the lovely team at Joy, where you'll leave feeling as good as you look.
Joy Hair Studio
Retail Level Lonsdale Quay
123 Carrie Cates Ct #202
North Vancouver, BC V7M 3K7
Open 10 a.m. – 6 p.m. every day.
Instagram: @joyhairstudio  
Facebook: JOY