This Halloween, your local businesses in The Shipyards District are rolling out the orange carpet and dusting up the cobwebs to trick-or-treat you to a holiday you won't forget. 
Here are our top picks for ghostly fun the whole family can enjoy this Halloween in The Shipyards District:
1.
Go Trick-Or-Treating Shipyards Style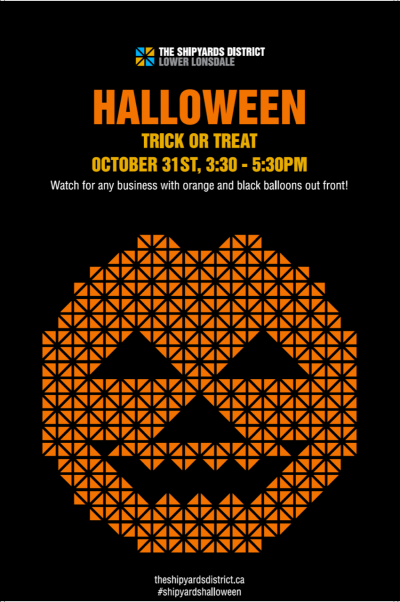 Nothing says Halloween like a little trick-or-treating, and this tradition is where The Shipyards District really glows the brightest. From 3:30-5:30pm on the big day, local businesses all over the neighbourhood get dressed in their ghoulish best to entice you in for treats, and maybe a few festive tricks too. Keep your eyeballs peeled for the orange and black balloons around town to direct you towards the participating businesses, and look out for any stilt-walkers and zombies who will most definitely be roaming the streets along with you! Here's a map of bone-chilling businesses to stop at, and don't forget to pop by The Quay's north entrance as well for some special tastiness, and to visit their participating shops too!
When: Monday, October 31st from 3:30-5:30pm.
2.
An Afternoon Of Halloween Fun in Shipyards Commons
Start the holiday a day early, and bring the family out for a Sunday afternoon of crafts, dance and music performances and food trucks in Shipyards Commons. From 12-4pm, all kinds of family-friendly fun will be buzzing around to get you and the kids ready for the big night. With the Vancouver Circus School offering free workshops, local school bands and dance troupes on-hand to entertain you, and food trucks waiting to tempt you with tasty treats, there's no better place to celebrate a Halloween At The Shipyards afternoon together!
When: Sunday, October 30th from noon-4pm.
3.
Get Streetcar Scary at MONOVA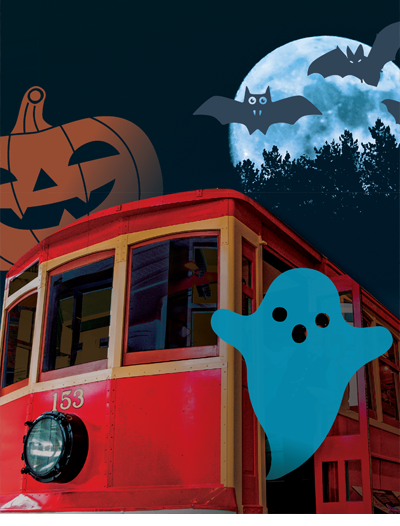 MONOVA will be happy to lure you and your loved ones into the museum on Halloween Day for a little story time in costume, and BATS (of course)! The Streetcar Scaries is free, and goes from 12:30-5:30pm on Monday, October 31st, so it's the perfect way to start off your official Spooky Day before heading out to evening festivities. There will be kid-friendly activities, including a Discovery Session on bats and campfire caper stories, so dress those little ones in their Boo-fest attire, and don't miss out! 
When: Monday, October 31st from 12:30-5:30pm.
4.
Sweeten The Deal With Seasonally-Inspired Treats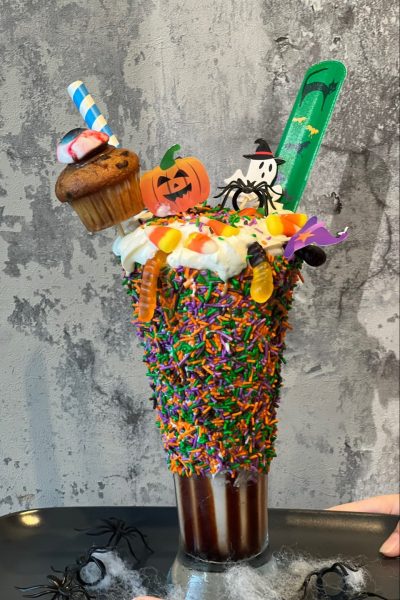 Nothing says Halloween like something sweet, and while so many of our local favourites in The Shipyards District will be passing out candy to trick-or-treaters on Monday, perhaps you'd also like to partake in some of the more hand-crafted, seasonally-inspired offerings that can only be found this time of year. Olde World Confections in The Quay Market is your must-stop for everything from handmade chocolate and fudge, to caramel apples and caramel corn, but if you won't take our word for it, just feast your eyes on the owner making peanut brittle from scratch! Maybe you'd also like to sneak into Butter Lane Bake Shop and Tea House for some delicious baked goods featuring all the apples, cinnamon and pumpkin flavours you can handle. 
5.
Say It With Pumpkins (And Beer)
View this post on Instagram
Planning on staying home to wait for the trick-or-treaters? Why not head over to Streetcar Brewing to stock up on a tallboy of their seasonal Pumpkin Spicy Festyweizen before it's gone? As for Jack O'Lantern decorations if you don't feel like making the trek out to a farm or patch, just drop by Foxy Farm Market or the Lonsdale Green Grocer, and pick up a few of those bright orange babies to bring home for the kiddos to get gooey with!
With so much to do and see in North Vancouver this Halloween, there's more than enough to scream about for everyone. Grab your best Boos, put on your most outrageous costumes, and make it a weekend affair of frightfully delightful events in The Shipyards District!